ARENA FLOORING: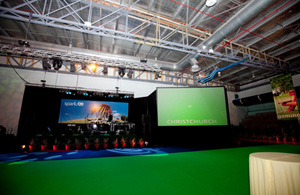 Since 1964 many New Zealanders have been getting great floors, efficient service and optimum solutions from our team.

Since the 1980's the display and event trade have increasingly joined this satisfied group of users.

In 2007 K R FLOORING (formerly Kenneth Ronald Ltd) launched the event-focussed division
ARENA FLOORING
; wrapping up established connections and extensive experience to deliver the total package for events and venues.
Benefit today from up-to-date products and hands-on can-do service that focuses on solving your event-floor project efficiently and effectively.
Combining
EXPERIENCE
CONNECTIONS
THE TOTAL PACKAGE

The
ARENA FLOORING
package is the outcome of
Extensive involvement in the event industry over the past two decades
Substantial connections with international trade members - from global designer-manufacturers to local designers and installers
History in the flooring industry since the parent company was established in 1964
The professional and complete package
One stop shop product range
combined with
Exceptional service and support
to provide
THE FIRST CHOICE FOR EVENT FLOOR SOLUTIONS